2012-08-31, Nerijus Celkonas
Payment cards exceed wire (online banking) by 1063 times in US – part 1
We've been using plastic ID's for payments in traditional retail spots and online for 40 years now. 11,1 trillion in payments for goods and services were done using cards in US in 2011 when only 1,2 trillion was spent using cash. United States consumers' use of cash declined 3 percent last year and it will continue to drop at the same rate through 2015, according to a new report by Aite Group LLC, a Boston-based consulting firm. Check payments make up 89% of all B2B and B2C payments, but there's a tendency to move into wire transfers if they were more convenient and cheaper. 663 trillion US dollars were spent using wire transfers in 2011. Yes, they dominate if we look at gross sums, but not the number of transactions.
Person to person (P2P) payments – cash only.
Business to Business (B2B) – checks, ACH, wire, cash.
Consumers to Business (C2B) – payment cards (credit, debit, prepaid), cash.
According to the number of transactions made, card payments exceed wire by 1063 times. In 2011, 127 million wire transfers (Fedwire) were made when during the same period 135 billion credit card payments were made (The Nielsen report).
Pros & cons of cards versus wire
The main and fundamental difference is the initiator of payment. Card payments are PULL system payments, that is, the initiative is on the merchant's side, the merchant is the one to charge the sum from your bank account. Wire transfers are PUSH system payments, that is, the buyer initiates the money transfer and the buyer is the one to authorize money remittance to the seller.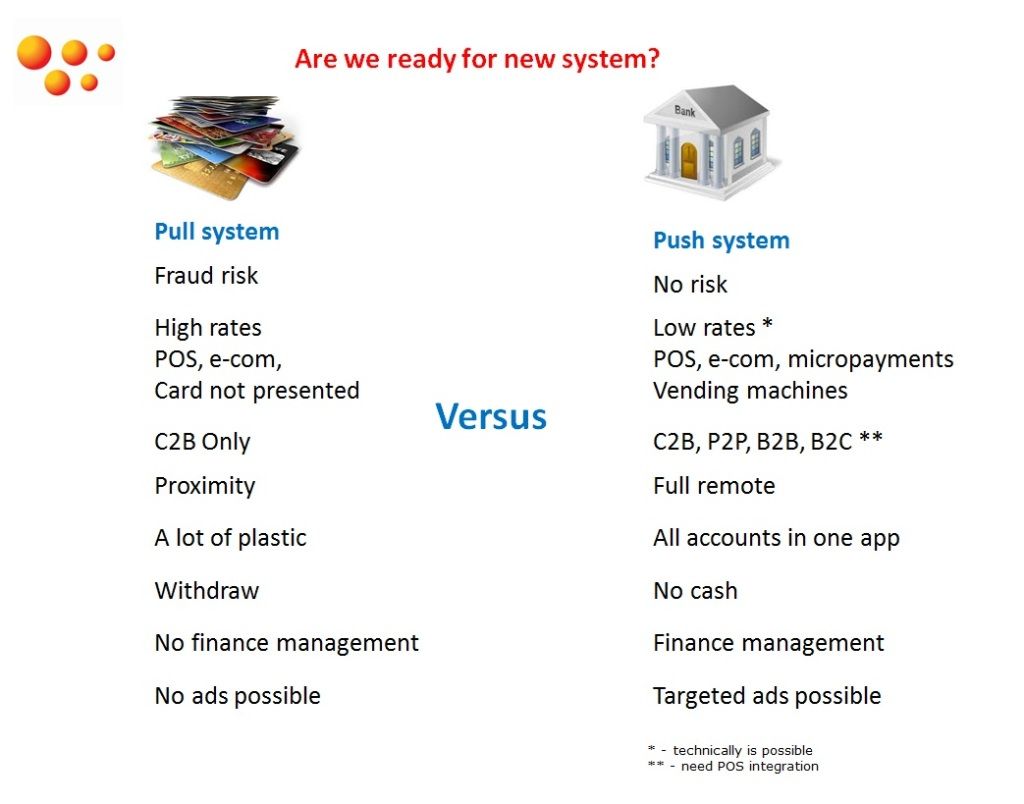 The risk of fraud is the main banks' and their customers' headache in a PULL system. Chargebacks, frozen funds, data fishing and credit card data theft as well as expenses associated with this doesn't allow card systems and banks to lower their payment charges to their clients. With wire transfers is a different story – refunds are very rare because the user himself initiates and authorizes the payments.
The price of payment service is another aspect that slows innovations and makes traders look for other types of payment during a crisis. In retail, commission that the retailer pays makes up 1 – 2.5% of the sales amount. In online payments the rate is 1.9 – 5% because of the risk of fraud ("card not presented"). Payment intermediaries take additional 0.25 – 0.5 US$ per transaction which basically prevents online micropayments. I'm not even talking about card issuing, manufacturing and service fees. Chargebacks are a headache for retailers because if the buyer protests the payment and payment intermediaries interpret safety in their own way and block the retailer's funds for 180 days – in most cases it's end of business. By the way, European Commission and US Congress together with Fed (The Durbin Amendment for credit cards) still keep fighting for the lowering of credit card fees. For example, European banks started applying 0.30 – 0.50 Euro charge per transaction anywhere in Europe even without waiting for SEPA (European payment product).
The receivers of payment in a PULL system are retailers only (C2B). There's no possibility to pay by card to a person (P2P) or business (B2B), or business to customer (B2C), or these possibilities aren't exploited (for example, in Europe even pensioners get their pensions into their cards and no one runs around with cheques). What do we do when your child needs 5 US$ for lunch or you want to split the bill with your friend at a café? One answer- CASH ONLY. PULL system has a wide choice of payment types and only your imagination is the limit. Also, retailers receive the money instantly and they don't have to wait for days or even weeks to get bank clearing, at the mean time, 5 – 15% of online retailers turnover are still kept for 180 days because of the risk of fraud.
In order to pay with a card (PULL), you need to have the plastic, remember the PIN code (online it's the CVV code) and be near the payment site. Even NFC technologies enlarge the proximity by a few centimeters only. PUSH payments allow for full remote, that is, paying for your goods in a brick-and-mortar style or online when you're at the other end of the world.
And finally the headache we all have – the wallet full of plastic. Credit, debit cards from different banks, discount, loyalty cards from different retailers… Yes, the retailers are satisfied with this system as our wallets can't fit all these cards - the ones that got there first enjoy greater customer loaylty. PUSH system allows us to control everything at one place, be it a mobile application or another electronic channel. Google or Apple are trying to partially solve this problem by putting all this plastic into an e-wallet and changing the payment system in own way.
Cash is the only positive attribute of cards, but at the same time, this only inflates the fees more as it's very expensive to service cash. In a PUSH system cash can also be withdrawn, for example, at Western Union or post office. Though, we all understand this is history already.
The next very important aspect is control of your finance. After all, you can't tell how much money there's on your card just by looking at it – you're not psychic are you? You also can't look through your income-expense statement before the bank sends it at the end of the month. Then where's family's budget planning, saving for vacation or purchases?
Finally, there's the dream of any marketing specialist – target marketing by individual purchasing history. In a card system (PULL) only to advertising methods are possible – card co-branding and advertisements on financial statements. PUSH system opens up unlimited possibilities to present target advertising according to one's consuming habits.
The whole world is talking about mobile payments, but the innovations will stop at Google wallet plastic database or mobile applications for the search of the nearest ATM if we don't change our thinking. Further explore all payment systems
So are we ready for a new system? How should it work? Follow us @Balticforge.com or www.balticforge.com
Please leave your comments and opinions below.
Author Nerijus Celkonas, CEO WoraPay Inc