2014-04-16, @BalticForge
Baltic mWallet report Q1 2014
Hello, readers of the first review of mobile payment market in the Baltic region. We'd like to celebrate together with you and announce that mobile payments are already a reality in the Baltic countries – anyone can try them out. If this service doesn't become your daily habit, you'll at least be able to boast to your friends and colleagues how cool you are.
In this first review we'll present only general tendencies and briefly introduce mobile wallets: how they'll change our habits in the future, what's in it for the banks and retailers.
So what is this Mwallet? It's a bank's or other payment institution's application on your mobile phone, that provides a possibility to pay for goods or services in retail stores or internet. In this review we won't discuss retailers' mobile stores (so we don't get mixed up) that are sometimes confused with mobile wallets. The mobile segment leader in the Baltic countries is a mobile wallet called MokiPay that started operating in 2011. It's a mobile payment system based on NFC (near field communication) technology, even though we also see QR or Barcode reader in the app, which means that in the nearest future we can expect new additional services or even technological transformations.
MokiPay has 101340 users that can pay in 267 retail spots all over Lithuania. Main consumption takes place in educational institutions, as the wallet is linked with student ID. That's a natural and smart step in order to raise new customers. Number of payments is up to 1000 transactions per day. The only shortcoming of Mokipay – the wallet is pre-paid in a broad sense. On the other hand, Mokipay is working actively with Lithuanian banks and integrating payment accounts in to the system.
Another fully operational mwallet is Paysera – a new product developed by mokėjimai.lt that allows to pay for the goods or services in cafes, gas station network Lukoil by scanning the QR code. This mwallet operates in WoraPay payment system. You can pay using Paysera mwallet from your mokėjimai.lt account, and there are more than 100 thousand of such accounts already. Even though mokėjimai.lt is a dominating player in e-commerce sector in Lithuania, the mwallet itself is still young and is making first steps in the market.
Mobilly wallet, operating in Latvia, allows paying for services (parking, taxi or account replenishment) in the territory of Latvia. In a short while, this mobile wallet will operate in WoraPay mobile payment system.
Medicinos bankas – the first Lithuanian bank to present its own mwallet. This mwallet operates in WoraPay mobile payment system as does Paysera. Medicinos bankas was the first bank to introduce utility bills payment using mwallet in 2013.
Šiaulių bankas also confirmed the integration of WoraPay and we hope that this summer we'll be able to make payments with this bank's mwallet.
DNB bankas – one of the biggest in the Baltic region – is also preparing to test WoraPay system and once the benefits are confirmed is ready to create its wallet as well.
We should also note the WoraPay mobile wallet as well. This wallet allows payment using own bank card. First quarter 2014 show which bank's payment cards mostly used: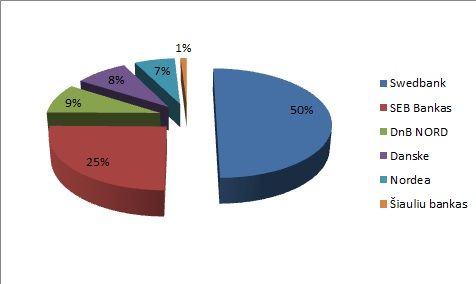 Users
Total number of mwallet users in the Baltic States has already reached several hundred thousand people. As a rule of thumb – it's youngsters interested in various innovations and rational middle-aged businesspeople. Most mobile wallets provide discounts for their users or allow adding discount cards. The main benefit to the customer today – payment self-service. Either waiting for the waiter with the bill, either going to pay for gas, or replenishing your GSM account – in all occasions you either wait or go somewhere. Mwallets provide the freedom to do this straight through your mobile phone. A user that respects time, convenience and innovation is the main user of mwallets. Mobile commerce doesn't exist because of the lack of payment function, thus mwallets can become the catalyst of m-commerce. You can buy goods or services only in two places nowadays – at a physical store or online. However, 95% of the time a consumer spends somewhere else, i.e. mobile, and certainly with a mobile phone in the pocket. Isn't it a great opportunity to provide users with a possibility to purchase something during this 95% of the time? If a retailer could provide me with a possibility to pay for my gym membership by just putting in Fitness24 or by scanning a QR code on my way to the gym, instead of downloading its app, choosing a service or good and paying with bank transfer. Wouldn't that be just great?
Let's try and statistically overview the tendencies of mobile payment market, using WoraPay's 1st quarter data, 2014.
Out of 100% of users that paid using mobile phone, even 45%, i.e. every second user, paid more than once per quarter. Repetitive use is a pleasing and promising result. Even 10% of users paid more than 5 times, so we can state that these users are the first-starters and ambassadors of mobile payment services.
A receipt received to mwallet can be read-only and payment of the bill is optional, so it's not surprising that in the beginning users were cautious and usually just looked through the receipt, but didn't pay for it. In the first quarter of 2014 45% of the receipts were looked through, and 55% were paid up. In January this figure was 50/50 and March had the result of 40/60. A trend can be seen – users are getting less cautious and not only look through the receipt, but start paying for it.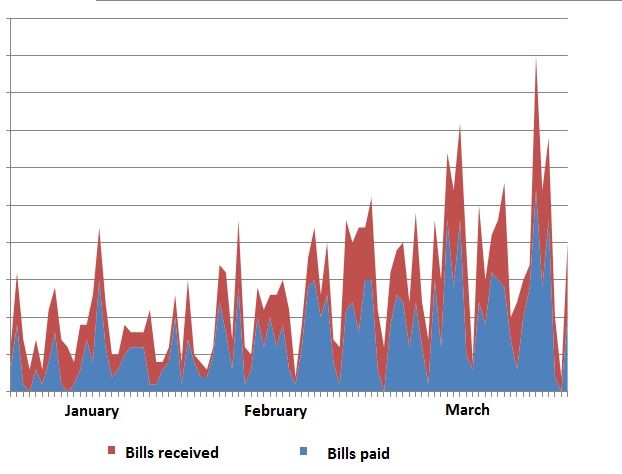 It's also worth noting, that mobile wallets are bravely used by both – young males and females. These statistics surprised a little, because, according to different studies, firs-users are always young males.
Retailers
2014 was a real mobile payment challenge for the retailers in the Baltic region. After the first test of MokiPay system in 2009, using NFQ technology, mobile payment technology invaded the market this year. WoraPay offered a QR code based technology to other mwallets. Probably, the only difference in these technologies is payment proximity and the absence of additional equipment. When using NFC payment is made by putting the mobile phone to the scanner (like paying with a credit card). When using QR code, the user can feel total self-service and the retailer doesn't have to incest into additional equipment.
First retailers to joining WoraPay system were restaurants and cafes, as the technology allowed customers to pay without the waiter. The system is integrated with the cash register. When the waiter puts in the order into the table, the receipt with a specification is received by the user directly to the mwallet. After entering the PIN code, the receipt is paid and this information is seen by the waiter in real time. According to the retailers, it saves a lot of time, especially during busy lunch hours, when the cafes are full of customers and there's no time to run around with receipts and change. WoraPay also presented order reception possibility to the restaurants, when the menu or QR code is scanned; the order goes directly to the cash register and also to the kitchen for preparation, as well.
Another retailer to try out remote payment was the gas station network Lukoil. Now the user just scans the QR code placed conveniently, gas up, receives the receipt to the mwallet, pays for it and leaves. This payment method also doesn't require additional investment to self-service terminals or other equipment. The only thing the operator has to do – print QR codes and hand them on the either side of the station.
It looks like QR codes are really finding their niche in the payment field and can become a true innovational breakthrough. Already retailers can register QR codes in their account, where they enter name and price of the merchandise, which provides opportunities to spread sales leads to all mobile users. The buyer has to scan the QR code using mwallet and the receipt is instantly received. After payment of the receipt the retailer receives the order and you – a subscription, ticket, good or service that will be delivered to your home or phone. The same technology is used when scanning not only QR codes, but the all-known barcodes, that we see in all stores, too. Even now VIP clients can take advantage of this full self-service: they chose an item, scan its barcode, pay for it and avoid long ques.
Nevertheless, the biggest challenge to the retailers, who use mobile payments, is to manage to dispose of discount or loyalty cards and use mobile payments as the only means of getting a discount.
A card is only a means of identification (ID) and has 3 main goals:
Encourage spontaneous purchases by providing discount to certain products, at a certain time and place.
Encourage loyalty, in order for the customer to come back again and again (cumulative percent).
Gather user information (phone, e-mail) and accumulate information on shopping habits.
The main goal for any retailer is to sell more and of more expensive goods, when making good use of the gathered information. Professional data use is no news for the big shopping centers, but how to avoid this discount card temptation for a small restaurant or family store when everyone around is throwing discount cards at their customers? Is small and medium business able to gather the whole information about their clients and use it effectively, or is it just another mass trend?
If it's not that easy to test the benefits of spontaneous purchasing and we can't ensure real client loyalty, isn't 10-20% that we pay for our client's info through discounts, a price too big to pay? Especially when customers usually tick the "don't send advertising" box on all questionnaires.
When the customers pay in cash or using a credit card, the retailer doesn't get any information and can't accumulate it to analyze user habits in order to improve goods or service quality. Using mwallets, the retailer doesn't have to duplicate its actions when gathering customer data. It's always known what phone number bought what goods, when and where. The only thing you need is a little smart analytics to understand how to improve services, recognize non-returning clients or forecast their future purchases.
According to A. Bakanas, a representative of restaurant network Takeway – "The implementation of the system in the first restaurant took us about 3 weeks: we debated the conditions, settled technical nuances, created informative leaflets. Later on everything went on much faster. WoraPay matched our expectations, so when opening new restaurants, now we'll implement it right from the start. We hope that in the future it will become as popular as payments with bank cards and will make up about 30% of all our transactions, because people have a mobile on hand more often than the wallet."
According to the statistics, we can clearly see that the increase in mobile payments is directly linked with the retailer's desire to reach own goals in using this as a technology, but not viewing mobile payments as yet another marketing channel. Those retailers who encourage mobile payments reap better fruit in the long run.
To summarize, we can bravely state, that the young generation is ready for a revolution and isn't afraid to change habits. It's a great signal to banks and other mwallets – you better start taking care of your clients and transform your mobile apps into mwallets.
Disclaimer: Sponsored by WoraPay

Follow us @BalticForge